Welcome to the Marin Brach of the International Wine and Food Society.
Masa's, San Francisco
648 Bush Street, San Francisco, CA
Thursday, August 25, 2011 6:30 p.m.
Some of my fondest culinary memories were of Masa's great cuisine. From our annual DRC holiday dinners, to many outstanding special evenings, it was a recent visit which left me with an exuberant – "Masa's is back."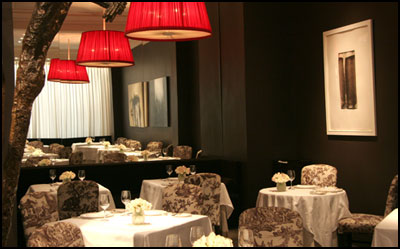 Yes, back with superb cuisine and exacting service.  Masa's has once again risen to the top of the few remaining traditional dining experiences in San Francisco.
It is refreshing indeed to enjoy a restaurant that is still reverent in maintaining a first-class dining experience with a room graced in elegance -- where you can still have a conversation at a captivating table and waiters focus on the smallest of details.  In honor of our upcoming event I did not have to ponder long with a wine selection – I wanted to go back to my early memories of wine enthusiasm, where my focus was on great California selections.
When searching the cellar I was looking for this to be a special experience.  I was inquisitive about our collection of 1983 Stony Hill Chardonnay, after pulling a bottle, decanting, and a disciplined twenty minute wait, this 28 year old chardonnay is remarkable, luscious in texture, a hint of honeysuckle on the nose, not one hint of maderazation, and absolutely superb!
Masa's Executive Chef (and former Chef at the French Laundry), Gregory Short, will be preparing his exquisite Sautéed Squab, which will be accompanied by a perfect 1982 Heitz Martha's Vineyard Cabernet Sauvignon.  And for the entrée, a 1982 Grace Family Vineyards Cabernet Sauvignon. I remember enjoying Grace when it was not only at the top spot, but one of the first vineyard designated wines to be produced in the Napa Valley.  You now have the opportunity to enjoy these great wines (yes in ample quantity) with Masa's terrific cuisine. I hope you will join us for a three decade trip back to memory lane.
Best Wishes,
Jack Rubyn, Chairman
---